Welcome to the Gospel Arts Manna

Gospel Arts Manna (GAM) is recognised for all forms of religious art in the UK. We have a number of singers, choirs and musicians and we are totally inclusive; there are no restrictions on age, race, sex, ability or religion. The Gospel Arts Manna Community Choir takes part in regular public events so feel free to visit the 'What's On' page and come along to visit as often as you like. You can also follow us on twitter.com/Gospelmanna and on facebook.com/Gospel-Arts-Manna.
Be Spiritually Fed!
_________________________________________________________________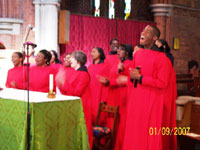 WHAT CAN GOSPEL ARTS MANNA OFFER YOU?
A gospel choir to sing at your wedding or function
Client Feedback:
"This wonderful Community Choir really packed a punch and lifted our spirits at my Christmas Reception. They were an absolute joy to listen to!"
Baroness Dorothy Thornhill MBE, Elected Mayor of Watford. 5 January 2018.
'A huge thank you to all for delivering a special memories wedding gift to
Claire & John who were so touched (as we all were) by an amazing performance.
Even by the end of the evening, guests continued to express their amazement
on how beautiful the performance was. It was totally amazing and the guests thoroughly enjoyed it too!'
Joanne Dunsmore 31 Jul 2014.
"I just wanted to say that you made Claire's childhood dreams come true when you sang at our wedding. We loved the fact that we were not kept to an existing song list and you went above and beyond to learn new songs so that we had everything we wanted in the way we imagined. All of our guests commented on how fantastic you were and you lifted the whole church, making our wedding the joyous occasion it was supposed to be. Thank you so much, we just wish we had video'd it so that we could relive the day, especially dancing back down the aisle's to 'O Happy Day'".
Allan Walker 1 Feb 2012.
xxxxxxx
Artistic Workshops
Gospel Arts Manna provides a variety of gospel artistic workshops to assist groups with learning difficulties, physical and mental disabilities, the elderly and the shut-ins. This is what a community leader had to say after one of such sessions with her group of adults...
"I just wanted to thank you for the brilliant session you led for the Daylight Club recently and to say the group are really looking forward to you returning next week for another session.

It was really good to see all our members involved in the session from singing and dancing to shaking instruments and moving to the music. It is interesting how music can be so uplifting and instantly improve people's moods. Many of our members do not get the opportunity to get out and about much, as they are limited by their disabilities, so for them to be able to participate in one of your workshops was a real pleasure and treat.

I have had such positive feedback that I am going to look for funding so we can book regular sessions with you."
Salpi Gulbekian, Passport to Leisure/Daylight Club - June 2010.
xxxxxxx
Gospel Manna Community Choir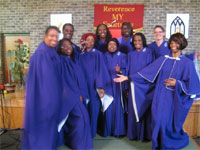 This busy community choir runs every Tuesday evening at 7:30 for all ages, ability and experience.. NO auditioning necessary and it is FREE! This choir had public bookings for every month throughout 2012. The Gospel Arts Manna Community Choir has also recorded two songs with local artist Mama Chill for her album released in 2011. GAMCC has celebrated its 11th anniversary and this is what a few people had to say:
"Whilst singing in the choir, I have noticed an improvement in the quality and strength of my voice. I am really looking forward to lessons"
Lesley Folgate - Aug 2016
"GMCC is an inspiring choir full of dedicated singers. The choir shows real discipline and is able to bring songs to life with their energy and heartfelt expression. This dynamic choir is nurtured and developed by the tireless and talented efforts of choir mistress Susan Watt, a truly masterful musician."
Judy Chandler - Aug 2013
"Gospel Arts Manna changed my life. It renewed my faith not only in God, but also in people, because the choir is made up of the nicest people you could ever meet. They gave me confidence in myself and my abilities, and welcomed me into the loving family that is Gospel Arts Manna."
Deborah Wright - Feb 2010.
"My life feels like I have found something that has been missing for a long time and I would like to thank you for your warm energy and accepting me into your group and giving me the confidence to try to sing."
Karen Silver - Oct 2009.
xxxxxxx
Gospel Singing Tuition
Take your first step now. Gospel Singing Tuition starts at £8 (full-time students and OAP's) £10 per half hour session.
Gospel Singing Tuition is also being given on-line via Skype. So no matter where you are in the world, you can arrange to have your weekly tuition whenever it is suitable to you. This is the written experience from a couple of students:
"Due to your coaching and influence, I have seen certain individuals grow with confidence and ability. The concepts, techniques and little nuances we didn't know before have become a staple routine within our group. It's been an exciting time and Susan is gifted in what she does. We only wish it could continue forever :-("
Dami Siyambola from Chapel of Glory International - May 2016.
'Someone once said to me; "You will learn to play your banjo quicker if you learn to sing!" I thought, well if I don't try, I won't find out.' So through a mutual friend, this Watford version of Victor Meldrew booked up some weeks ago with you for some lessons. I am so very happy that I did; with your exhilarating and happy style of teaching, I am now enjoying a new hobby I never, ever dreamt I was capable of. Every week your kind words of encouragement, coupled with your confidence in me, plus the time you take to explain and demonstrate, leaves me with a great sense of achievement. I can hear and feel at the end of every lesson that I am progressing. Also when you invited me to join the choir, I felt very honoured that you thought I was good enough. Heres to many more happy lessons and thank you! You are now more of a friend than a teacher."
John Brighton - Feb 2012.
"I am truly grateful that you have given me the courage and confidence to go places and do things that I would never have dreamed possible. I have sung in my car and bathroom for 40 odd years. Now, the door has literally been opened and I am regularly singing to audiences! I still have to pinch myself every now and then!!!"
Vyvyan Weltiner - Mar 2010.
xxxxxxx
Choir Robe Hire (UK)
Hire prices start from £39.95 plus £50 refundable deposit per robe per day. Postage fees apply to non-collection orders. Terms and Conditions applied.
xxxxxxx
Event Presenters and Hosts
Gospel Arts Manna have a number of skills to it's hand including event management. Feel free to contact us when planning your event to discuss hosting, presenting and creating a musical feast for your organisation.
"Last week we had a great debrief meeting with the group who helped organise the event and one of the highlights mentioned was how strong the hosting was this year - thanks again for agreeing to it, it really did weave the different performances together wonderfully."
Nicole Artingstall, Watford Palace Theatre - December 2016.
xxxxxxx
Gospel Arts Manna ShowCase
Every year Gospel Arts Manna puts on a show for the public to highlight some of the people we have worked with over the previous 12 months. Our aim is to promote local and young talent and as we are a school we also show individual progress and accreditation during that time. This is one of the reviews received after the most recent show:
"Thank you for inviting me to this wonderful event which I thoroughly enjoyed. The highlights for me was the inclusiveness of the talent range."
Enid Saunders, Watford African Caribbean Assc - Aug 2013.
xxxxxxx
Calling All Gospel Artistes!
Card-makers, choirs, comedians, cooks, craft-workers, dancers, designers, drummers, film-makers, florists, harpists, mime artistes, musicians, painters, photographers, playwrights, poets, quartets, radio producers, sculptors, seamstresses, singers, soloists, violinists, wood-workers, writers and any other artistic forms...
Contact us if you would like to get involved
xxxxxxx
Gospel Arts Manna aims to identify, nurture and advance gospel artistes of all genres, giving the opportunities necessary to have their gifts recognised by religious and non-religious alike who have a respect and appreciation for gospel art.



By the way; if you have been blessed by anything on this site, don't keep it to yourself!


_____________________________________________________________